Caturra
A mutant of Bourbon, discovered in Brazil. This variety gives high yield and good quality, but needs care and careful fertilization. Caturra has short and thick trunk, heavily branched. Its leaves are large and curly at the edge like Bourbon. Caturra is suitable for many environments, but grows best at an altitude of 600 to 1,500 m with an annual rainfall of 2500 to 3500 mm. At higher elevations the quality will be higher, but productivity will decrease.
Mundo Novo
A natural hybrid between Typica and Bourbon, found in Brazil. This plant is strong and has good disease resistance. Mundo Novo has a high yield but lasts longer than other varieties. This variety is suitable for elevations from 1,000 to 1,500 m, with rainfall from 1200 to 1800 mm.
Catuai
A high yielding variety, a hybrid of Mundo Novo and Caturra. The trees are small, the branches usually close to the main branches. The fruit of this tree does not fall easily, suitable for areas where there is wind or heavy rain. Catuai also needs care and adequate fertilization.
Pache Commum
Pache commum is a mutation of Typica, first found on the farm El Brito, Santacruz Naranjo, Santa Rosa, Goatêmala. This type of coffee is considered to be soft and smooth. Pache comum is suitable for elevations of 1,000 to 1,500 meters.
Pache Colis
Found on a farm Pache comum and Caturra in Guatemala. The fruits of this big, rough leaves. Pache colis have resistance to Phoma. Stems and branches are many branches. Plants grow from 0.8 to 1.25 m high. Pache colis is suitable for elevations between 1,000 and 1,800m above sea level, with temperatures between 20-21°C.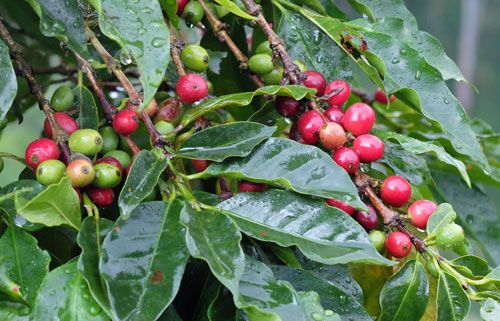 Catimor
Created in Portugal in 1959, Catimor is a hybrid between Timor and Caturra. Plants mature early and produce high yields, often equal to or more than other commercial varieties. Because of this feature, the process of fertilizing and planting shadows should be carefully adjusted. Catimor T-8667 has small stature but produces large fruits and seeds. Catimor T-5269 series is strong and suitable for areas with elevations from 600 to 900m with an annual rainfall of about 3000mm. T-5175 is strong and high yield, but not grown at altitudes too high or low. If planted too low, the quality will not be much different from other Catimor varieties, but if grown at an altitude of more than 1,200m above sea level, other varieties will give better quality.